Features in TextMilling
TextMilling is loaded with features to create your engravings exactly how you like it. Milling texts with output in G-code for CNC machines have never been easier.
Single stroke fonts
TextMilling comes with a number of single stroke fonts. Our lightest fonts include arcs and can therefore create characters with only a few lines of CNC code.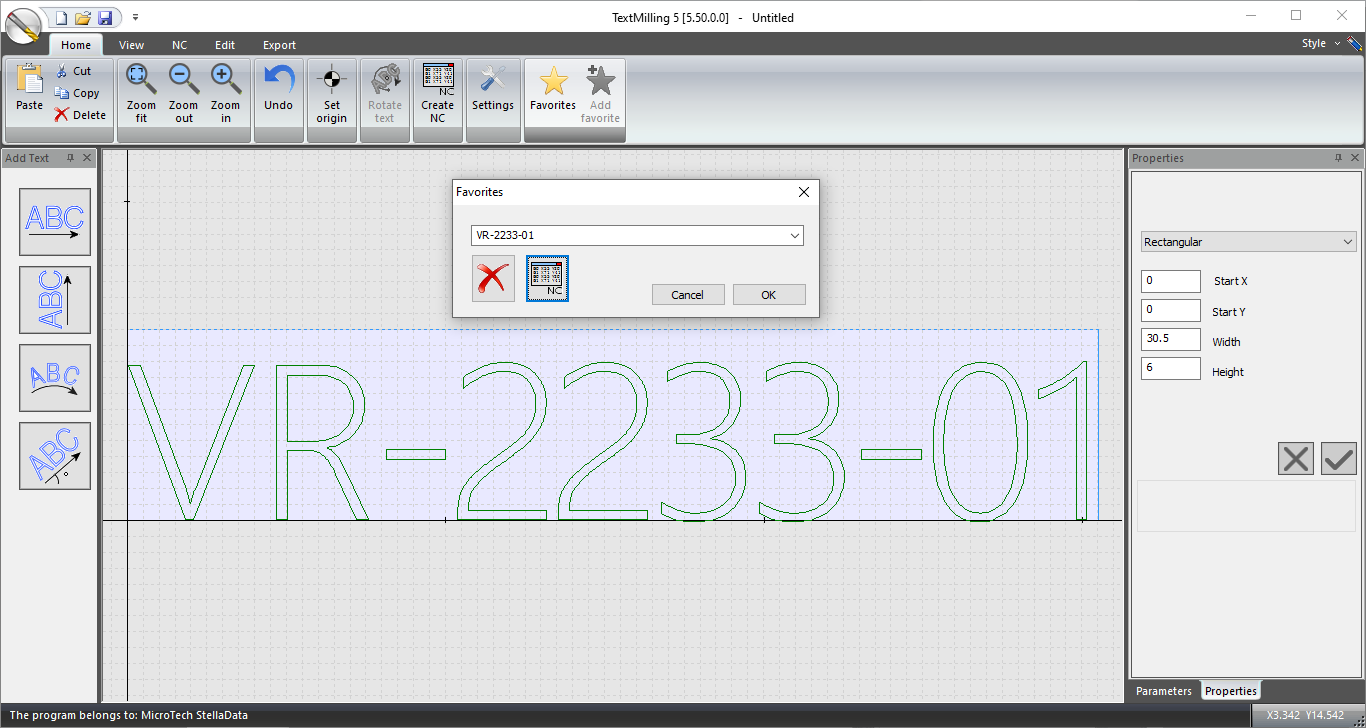 Management of number series
The function "Add to favorites" can be used to easily create number sequences or other repetitive texts that only need to change a little each time. Design and positioning of your text. Add it to favorites. Next time you call it up from favorites, modify any characters and create CNC code directly with one click.
Language Support
When creating TrueType or OpenType texts, Text Milling supports all languages that are supported by the fonts installed on your computer. Such as Chinese, Arabic, Russian and Cyrillic letters. There is also a virtual keyboard that helps you find symbols and characters that may not be available on your keyboard.
Letter Comments in CNC code
When you create a CNC program (G-code) with Text Milling each letter are separated with a comment in the CNC program. This makes it very easy to see which blocks belong to which letter.
Fonts for your purpose
There are many different types of fonts that individuals and companies have made available on various sites on the internet. Some are free and others you have to pay for. As soon as you have installed the font in Windows, it is available in Text Milling. The fonts do not have to contain only letters. It is common for fonts to contain symbols, geometric shapes or as the picture shows, different car and motorcycle brands.
New features for version 5
In version 5 of TextMilling we have added some of the most requested features.
Fixed character width (box text)
Text milling allows you to get fixed font width for fonts that do not have a fixed font width by default. By placing each letter in a box of specified width and height, the dimensions of the text can be controlled in a simple and effective way. This is useful for both straight texts and texts that are written in an arc.
Open Type Font
Text Milling now supports Open Type Font (OTF)
New font for serial number engravings
To meet the demand for a font aimed at serial number engraving, we have created the single stroke font Serial Number.fnt. The letters in the font are made with few linear movements but are still easy to read.
Bold and Italic
You can now choose to make all TruType and OpenType fonts that support it in bold or italics.
Lock aspect ratio
You can now choose between locking aspect ratio to height or width. You can also set height and width freely just as before
CJK Fonts
Support for the Chinese, Japanese, and Korean languages fonts

We have also made a lot of minor adjustments and improvements to meet the needs of our users.